Today we are sharing how to reset ZTE Axon 7 to its factory mode. Let us tell you few important things before starting. First thing is that you need to fully charge your phone battery, otherwise your phone might be shut down while operating hard reset. It could bring a huge software damage to your phone. So don't forget to charge your phone before starting. Second thing is that factory resetting will erase all of your data and personal settings, so please try to make a backup file to save your data. Lastly, we recommend you to wipe cache partition first, because you can resolve the issues without deleting data. Wiping cache partition won't affect to the system.
Why do you need to reset your phone? If something has crashed on software, your phone could be:
running too slow
no responding
won't turn on (black screen)
frozen too often
Wipe Cache Partition & Factory Reset
Step 01. Please shut down your phone completely.
Step 02. If your phone is turned off, Press and Hold Down Volume UP + Power keys together.
Step 03. When the screen is turned on and the logo appears, release the power button only. Keep holding down the Volume UP button until the recovery mode comes up.
Step 04. Highlight Wipe Cache Partition using volume button and confirm it using power button.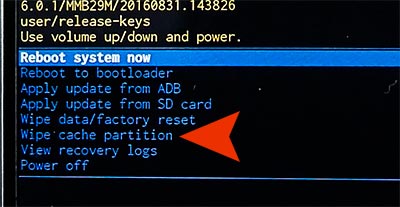 Step 05. If wiping cache partition didn't solve the problem, try to select Wipe Data/Factory Reset instead of wipe cache partition.
Step 06. Once you selected Wipe Data/Factory Reset option, it will ask you to delete all user file to confirm. Select Yes.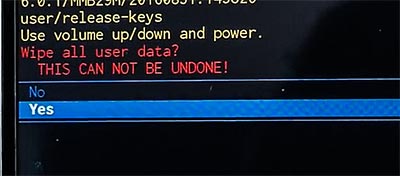 Step 07. Wait until hard reset processing is done. When it's done, select Reboot System Now option from the menu.Your phone will be reboot.