Laptop battery is not charging with a power adapter plugged in ?
How to fix the battery not charging issue on Windows 10, 8.1, 8, 7, Vista, and XP based laptops
Here is how to fix the battery not charging issue even with a good battery and a power adapter plugged in. If this method does not resolve the charging issue. Please check your laptop battery and your laptop power adapter.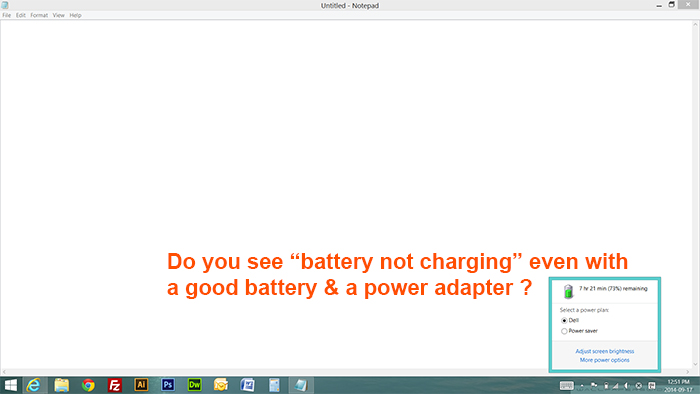 This information is for Windows XP, Windows Vista, Windows 7, Windows 8, Windows 8.1, and Windows 10 based laptops. What do I do if I am not able to charge my laptop battery when the power adapter plugged in (laptop battery not charging problem). Sometimes, with a good battery and a good power adapter, your laptop won't charge battery. This method does not work for all battery not charging issues, but please try to follow the following instructions to fix your charging issue. If this method does not work, you should try to replace your laptop battery or your power adapter.
HOW TO FIX THE BATTERY NOT CHARGING PROBLEM: (For all Windows based laptops)
1. Please go to "Control Panel" Click the start button, then locate the Control Panel. For Windows 8 and up, please move your mouse cursor to the left bottom edge, then do a right click. This will bring up a menu. Please locate Control Panel, and click. (In Windows 10, just type "Control Panel" in Windows 10 search bar, then click "Control Panel".)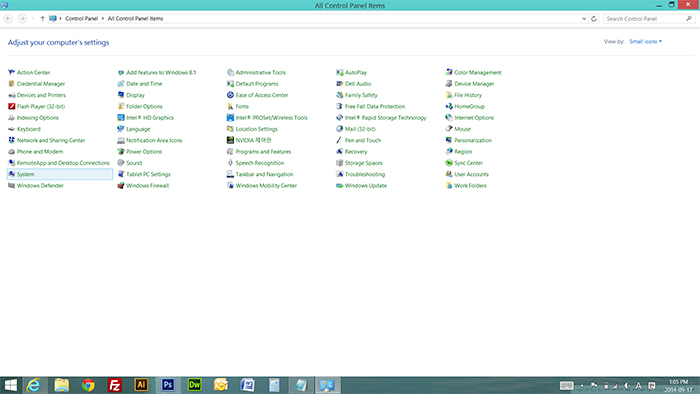 2. If your control panel does not look same as the picture above, please change your control panel view to "Classic View" or "Small Icons".
3. Find and click "System" then please locate "Device Manager". For Windos XP, please locate a menu tab titled "Hardware" and click it. Under the Hardware menu, you will see the Device Manager. For Windows Vista, 7, 8, and 10 please click the "Device Manager" on the left side menu.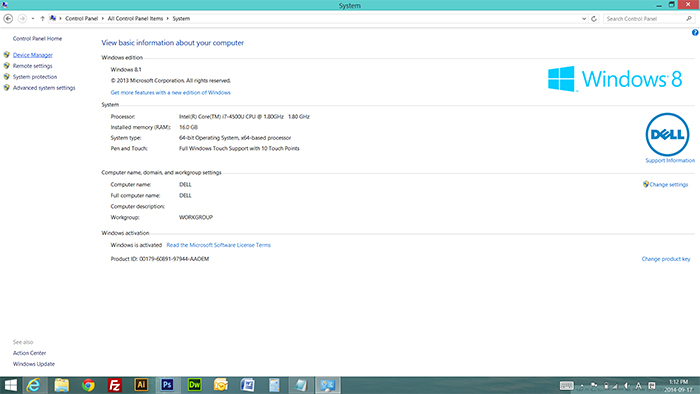 4. Please click "Battery" and under Battery, please click "Microsoft ACPI-Compliant Control Method Battery". Now, do a right click on it, then click "Uninstall". Confirm that you would like to uninstall the Microsoft ACPI-Compliant Control Method Battery.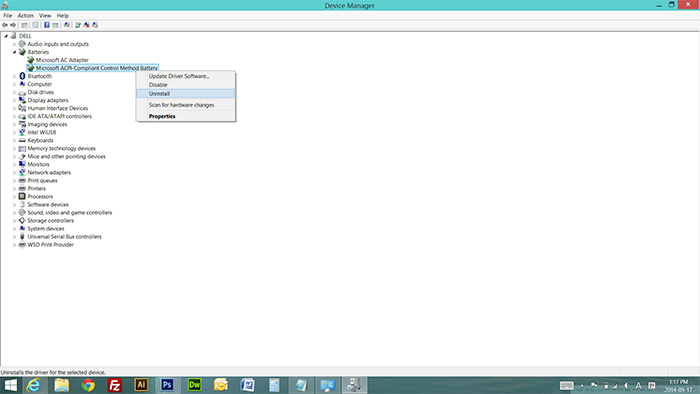 5. After the uninstallation process, please restart your computer.
6. As soon as you restart your computer, the Windows will automatically install the driver again. Please check your battery icon on the right bottom side of your Windows screen to see if it is charging.
If you still have the battery issue, try the below solutions. Also we have tips on increasing your laptop battery life !
CLICK HERE FOR MAXIMIZING LAPTOP BATTERY LIFE TIPS >
1. WHAT TO DO IF THE METHOD DID NOT WORK FOR YOU? – Removing the battery and reinstalling resolve the battery not charging problem sometimes. Try it.
Try to remove the actual laptop battery, and then re-install the battery. Sometimes, it fixes this issue. If you have internal battery, you will need to disassemble your laptop to disconnect the battery from your laptop.
2. WHAT TO DO IF THE METHOD DID NOT WORK FOR YOU? – Drain your laptop battery
1. The above methods did not work for you? Here is one more thing you can try. Please drain your laptop battery perfectly and then try again.
2. Do not know how to drain your laptop battery ? Unplug your power adapter first. Only with your battery power, simply by using your laptop until the computer shutdown and won't turn on. You will need to drain the battery perfectly. If your laptop keep turns on, leave the laptop for a while until your laptop does not even turn on.
3. Laptop battery is drained ? Plug in your power adapter and start to charge the battery, then turn on your laptop to see if it starts to charge.
STILL HAVE NOT CHARGING BATTERY PROBLEM ?
IF YOU STILL HAVE THE BATTERY ISSUE, Here is how to check laptop battery condition !
CLICK HERE TO CHECK LAPTOP BATTERY CONDITION >
Consider replacing your laptop battery or your laptop power adapter.
1. When your laptop battery is dead or when your laptop power supply does not provide right power, this can happen. Please consider replacing the battery or the power adapter for your laptop.
If you have a hard time to do it, then please leave a comment here. We are always here to help you with this horrible Windows uninstalling issue!