How do I know if my hard drive condition is bad ?
Hello~ If you have several computers before, and if you are a person who uses a computer for long time(more than 5 years), then you might have lost all of your important files due to a hard drive failure at least once in your life. A hard drive is one of the easiest computer components to fail. It is vulnerable to physical shock, and statics. If you drop your computer from a desk height, there is a big chance of hard drive failure, but you can find out before your hard drive fails. Today, we are going to learn how to check hard drive health & status in Windows 10, Windows 8, and Windows 7. It also work on Windows Vista and Windows XP. Let's get started!
How to check my hard drive status (S.M.A.R.T Info)
We are going to use a software called "CrystalDiskInfo" Go to the official website to download: http://crystalmark.info/software/CrystalDiskInfo/index-e.html
You can download a install version or portable version(you can run without installation). It does not really matter.
Just run the "CrystalDiskInfo"
Now, it will display all of your hard drive information including: power on hours, power on count, model name, temperature, SMART, and etc…
Make sure that your "Health Status" is good, and highlighted in blue. If the "Health Status" is caution, you should be careful, and if it says warning in red colour, you should replace your hard drive imminently.
Even if your "Health Status" is good, if the "Power On Hours" value is more than 30000 hours, start to make backup on external storages.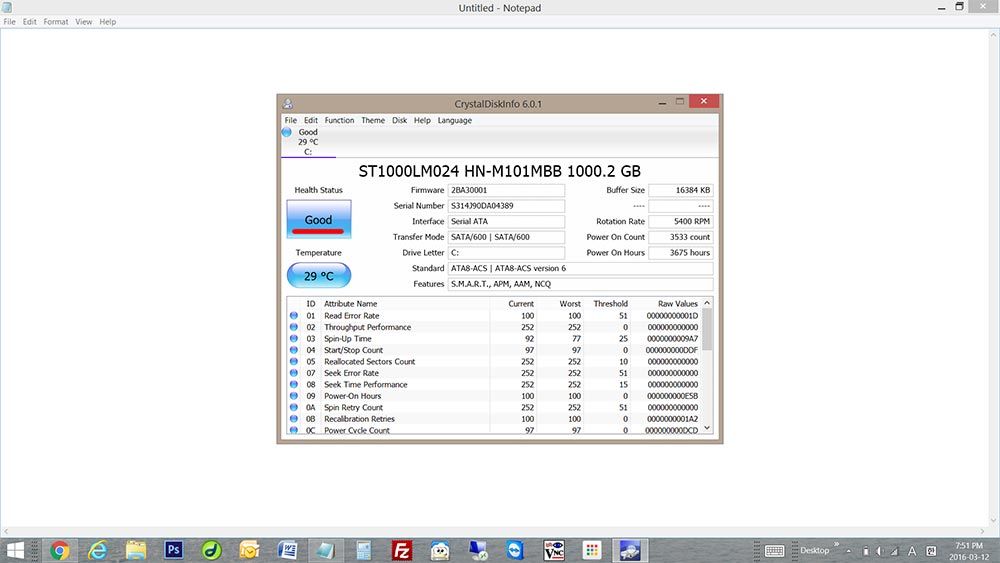 This is how you check your hard disk condition in Windows 10, 8, and 7. We hope the information was very helpful for you! 😀
Thank you!
Bad sectors found ? Don't worry. Here is how to check & fix bad sectors !
Click here for hard drive bad sector repairs >