imap server issues – I have Gmail account, and I am having problem with my email client program (like Outlook 2016/2013/2007, Windows Live Mail, Windows based phones, Android Mail, iOS Mail …) Cannot receive or send email with my Gmail account! Gmail stopped working!
Hello everyone.. Today's topic is about email. What email ? There are so many email service providers, but we are going to talk about Gmail today. Why we talk about Gmail instead of other email like Yahoo, and Hotmail ? It's because, right now we know that so many people are struggling with their Gmail account. Only for the people who use email software instead of web based email. Here is how we noticed this issue. One of our client is a real estate, and in the real estate office, they use a software that sends thousands of message to their real estate agents. That's not a problem. The problem occurred in 2016. For that software that they use, we were using a Gmail account to send emails. It was working great until 2016 comes. Suddenly, no messages being sent, and there were complaints from real estate agents. They called us, and we had to find out why the messaging software stopped working all of a sudden. We tried to use different email, and it worked, but they really preferred to use their own Gmail account. We had to find out why. So, we called the software developer for troubleshooting, and it took almost 3 hours… the result ? No. We couldn't fix it. We did change firewall settings, routers, and antivirus software, but all did not resolve the Gmail issue. We called Google, and it did not take a long time to find out why it stopped working. They knew the solution. Let's find out how!!!!
How to fix Gmail is not working problem on your Outlook 2016/2013/2007, and all other email clients (including iOS, Android, and Windows based devices)
To let you know, this could happen on any computers or phones if you are using a third party email client (or software), but don't worry. it is easy to fix. First, you do not need to change any email client's configuration. In this case, the problem is not on your computer. Also, on some email clients, the error message could be different. So, if your Gmail account stopped working all of a sudden, let's try this solution first before you change any config on your email client. All you need to do is to login to your Gmail, and changing a setting. That's it. We are not joking. 😀 😀 😀 We are serious.
1. Let's login to your Gmail. Go to google.com or google.ca to sign in.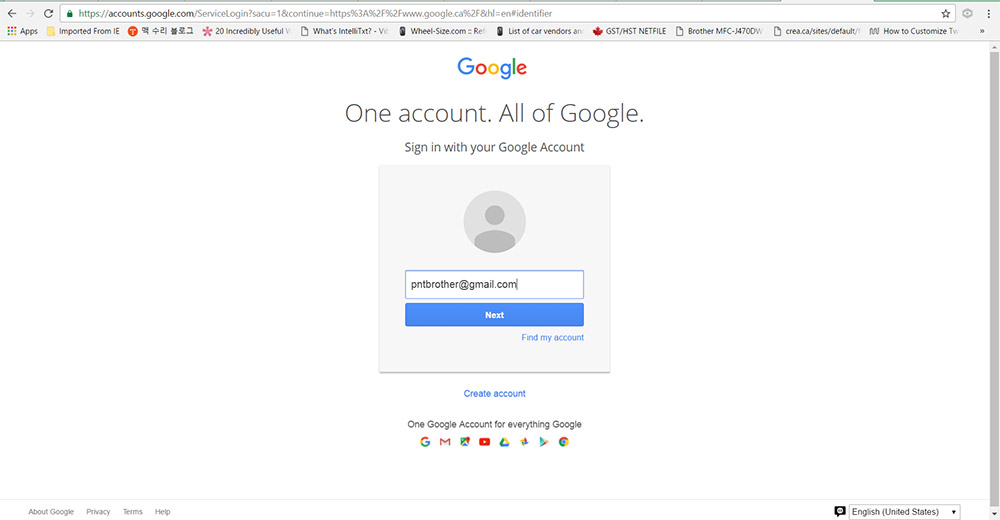 2. Once you are logged in, look at the top right section of Google website, click your initial, then click "My Account". We are going to change a setting to make your Outlook working again.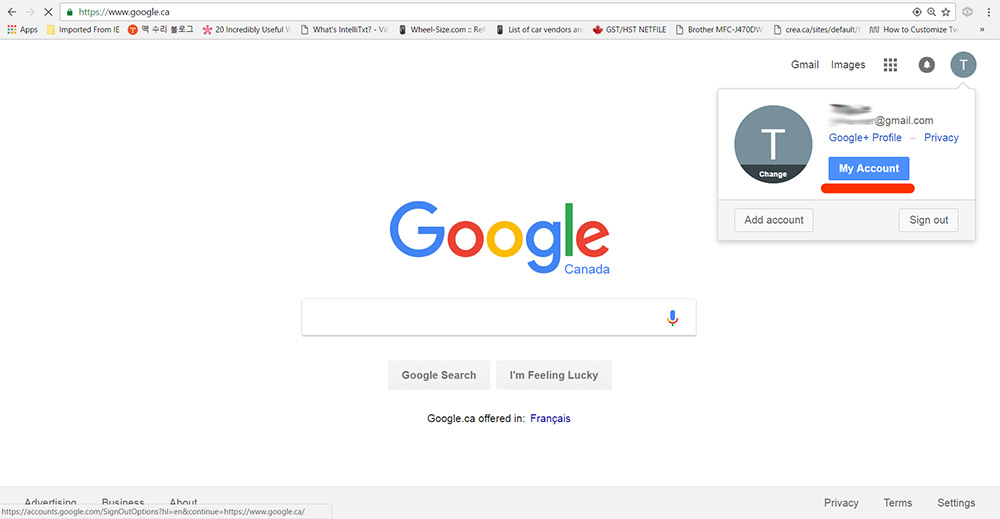 3. In here, you will notice that there are many different options like personal, preference, and security. Click "Sign-in & security".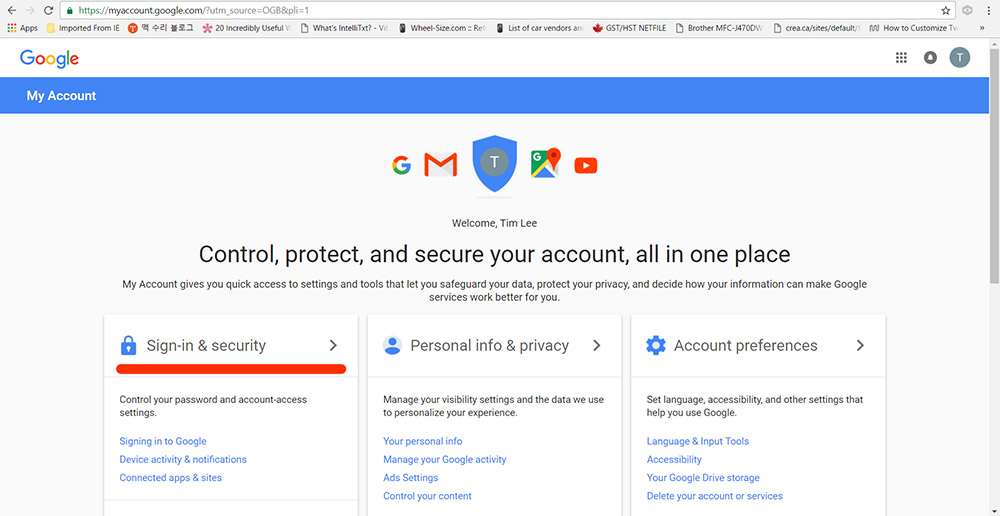 4. Scroll down until you see "Connected apps & sites". Do you see the "Allow less secure apps" ? The default value is OFF. Turn it ON! You cannot find this option ? If you are using 2 steps verification login method, it is normal that you will not see this option. Don't worry.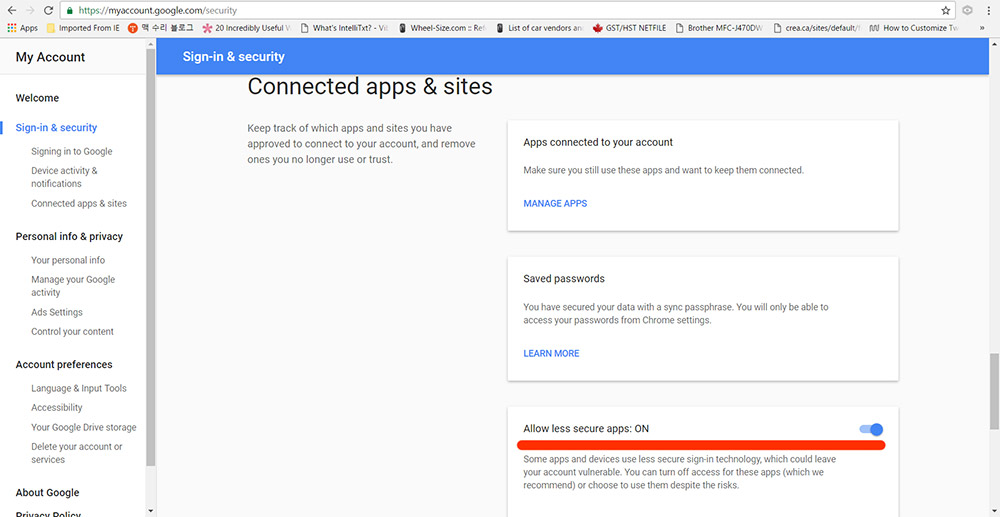 5. Now, let's try your email client again. It will work.
Google is saying that:
Google may block sign-in attempts from some apps or devices that do not use modern security standards. Since these apps and devices are easier to break into, blocking them helps keep your account safe.
Some examples of apps that do not support the latest security standards include:
The Mail app on your iPhone or iPad with iOS 6 or below
The Mail app on your Windows phone preceding the 8.1 release
Some Desktop mail clients like Microsoft Outlook and Mozilla Thunderbird
Like the fact above, if you are using older email apps, you will be in trouble, and you will need to turn on the allow less secure app feature in your Google account.
What if I still have the email problem ?
We understand that this solution might not work for your email problem. In that case, please make sure that your incoming and outgoing server use secured connection. Some of internet service providers now do not allow the regular ports for receiving and sending email (like port 25, and 110) because of security issues. Make sure that you use SSL/TLS connection for your in/out email servers. It is normally 995 for incoming email server and 465 for outgoing email server, but to be accurate, look for the email server settings of your email service provider on the internet.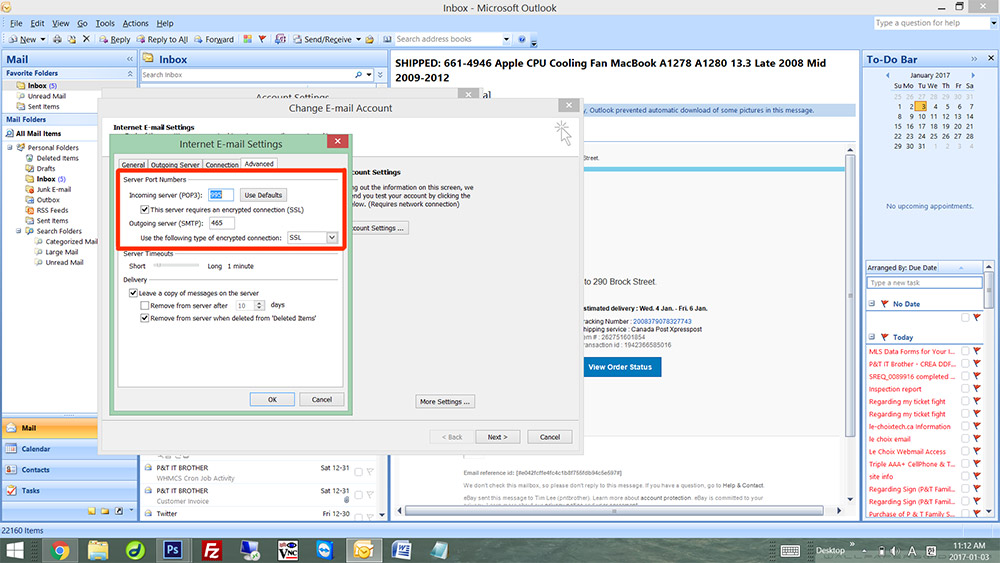 We hope all of you resolved the email issue! 😀 😀 😀
Thank you for reading!