What method do you use to transfer pictures on iPhone and iPad? Have you ever heard about AirDrop? Do you want to know how to use it? Generally when we try to transfer pictures to a tablets from a cellphone, we used to download pictures from a cellphone to a computer and then transfer the pictures to a tablet from a computer again. Now you can transfer pictures conveniently with a new transfer method called AirDrop. AirDrop helps you a lot more easier to transfer pictures and files between Apple mobile devices such as iPad Air, Mini, iPhone 6, 6 Plus, 6s, and 6s Plus. Today we are going to share how to use this AirDrop transfer method between iPhone & iPad. Hope this instruction helps you to learn how to use AirDrop transfer method.
First Step 01. Please prepare two Apple mobile devices such as an iPhone and iPad. (one that sends files and the other one that receives files.)
Second Step 02. Try to swipe up using finger tips from the bottom of the screen to get options, then you will see there is an AirDrop option. Tap on the AirDrop button and choose Everyone. If you select Contacts Only, you can only send files to your contacts that you have on your iPhone and iPad. (Note. You need to turn on AirDrop on both devices)

Third Step 03. Go to Photo and select any photo that you want to transfer. Once you select the picture, you will see the icon with the red arrow. Tab on that icon.

Fourth Step 04. You will see the iPhone or iPad that is ready to share pictures from you appears on the list (In the red box with the red arrow). Select the new iPhone or iPad user and then the picture you selected going to transferred. Now try to check the other iPhone and iPad that receives. You will see the other iPhone or iPad gets the Photo successfully.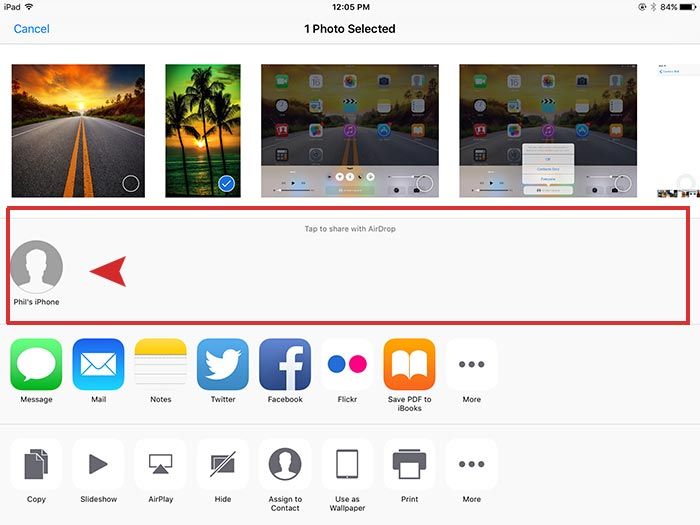 Next: How to Share files between Mac OS X & iOS (Macbook & iPhone or iPad)