My Galaxy S7 stuck on Samsung Logo! Keeps Restarting! Screen won't turn on!
Hello Android guys! Today we are trying to fix won't start up issues on Samsung Galaxy S7. If you are one of the people having the same issues, try some of our methods. First thing we are going to do is if we can boot into safe mode. If we fail to access into safe mode, we are going to wipe cache partition. And lastly, we are going to perform factory reset. But factory reset deletes all your data, so it's up to you. However let's fix the problem. Just one thing you should check before starting. Have you tried to charge your phone one more time? We recommend you to try charging your phone one more time. If still not working even if you try to charge one more time, try the steps below.
It might be the solution For those having one of the following issues:
My phone is frozen
Screen won't turn on (Black Screen)
My phone won't boot up
Keep starting issues (Stuck at loading or forever loading)
Keep freezing
1. Soft Reset
Sometimes low battery power could be a cause of the issue (Not turning on). When your Galaxy S7 is not responding with a black screen, soft resetting might help you to resolve the issue. Please follow the steps below, in order to fix the problem:
01. Firstly, we are going to charge the device more than 30 minutes.
02. After 30 minutes of battery charge, Press and Hold the power button for about 20 seconds, until the screen turns on. If the device turns on and the Samsung Logo Appears, you can release the power button.
03. If soft reset didn't help you? Check if your phone can boot into Safe mode for the next method.
2. Safe Mode
Please check if you can boot into safe mode. Sometimes apps cause the won't turn on issue. If an app gets an software crash, it could bring an error into the system. So we are going to boot into safe mode and find the app that causes the issue and delete it. In order to boot into Safe Mode:
Step 01. Power off your phone.
Step 02. Power on your Galaxy S7. When the Samsung Logo appears on the screen, Press and Hold Down the Volume DOWN key until it completely boots up into Safe Mode.
03. There is a Safe mode displayed in the bottom left corner. Now you need to find out the app causes the issue. Try to find and delete the app that you think that might cause the issue. And then restart the device and see if it still has the same problem. If so, try to boot into safe mode again and do the same thing until the issue is resolved.
Tip. It's not easy to find out the specific app that cause the issue. It might take a lot of time. Here is another suggestion for the easier way. If you don't mind factory resetting, we recommend to perform factory reset in the Safe Mode. You can simply reset the device by navigating to Settings > Backup and Reset > Factory Data Reset. Note that factory resetting erases all data.
3. Wipe Cache Data
It could be happened due to the cache errors. So we are going to wipe cache partition in recovery mode this time.
Step 01. Make sure your device is turned off
Step 02. Press and Hold Home + Volume Up + Power buttons at the same time and release all buttons when the recovery mode screen appears.
Step 03. Soon you will get this screen. Navigate Wipe Cache Partition using the volume down button and confirm it using the power button.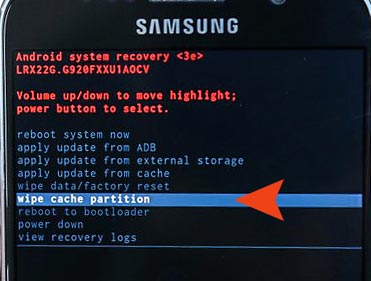 Step 04. After wipe cache partition process is completed, try to restart your phone and see if it still won't boot up. If so, try to factory reset.
4. Factory Reset
Warning! Factory reset will erase all of your data (pictures, videos, and settings).
Step 01. Power off your device as you've done in the wipe cache partition.
Step 02. Press and hold Home + Volume Up + Power key together until the recovery screen comes up.
Step 03. Select Wipe Data/Factory Reset.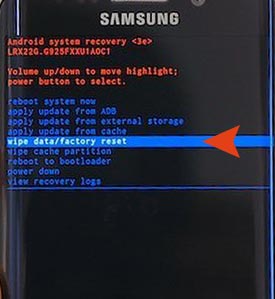 5. Repair Shop
If all of methods didn't resolve the problem, maybe it's hardware issues that you can't fix by your self. In this case, we recommend to visit any cellphone repair shop near by your place.