FIX my iPhone 7 black screen issue! Stuck on Apple Logo! Keeps Restarting! Charging Problem!
Is your iPhone 7 frozen? Screen won't turn on? won't charge? stuck at loading? Don't worry! we are going to share solutions for the issues. First thing we are going to do is soft resetting. Sometime errors could be occurred on the system, and some issues, such as infinite loading or screen won't turn on issue, could be happened. Accordingly, we are trying to reboot the system by Soft Reset. If soft resetting didn't resolve the issue, we are going to put your iPhone into the DFU Mode, which is Recovery Mode. Hope the methods below helps you to resolve the issues.
Soft Reset
If your screen is not responding with black screen? or stuck on the Apple Logo Screen? or Keep rebooting? Soft reset might resolve the issue. Please follow the steps below.
01. Press and Hold Down Volume Down + Power buttons together for about 10 – 15 seconds until the Apple Logo appears on the screen. If the screen turns on with the Apple Logo, release all holding buttons. If your iPhone doesn't respond or still won't start up, try the next method.
(For iPhone 6 user: Press and Hole Home + Power buttons together for about 10 – 15 seconds)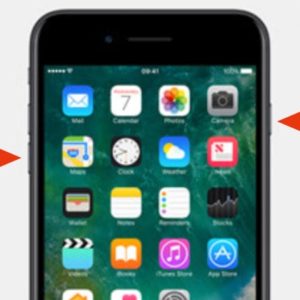 Extra Charging
Sometime low battery is the one of issues. Please check your iPhone has a enough battery power to turn on. Try to charge your iPhone 7 at least more than 30 minutes, and then try to press and hold the power button until the screen turns on. If still not working? With plug it in, try to perform soft reset. Press and Hold the Power + Volume Down buttons together until the screen turns on. This way might work.
Change Charging Cable
Perhaps, it's the charging cable. Check if you are using a third party charging cable. Some cheap third party charging cable doesn't work properly. Try to use the OEM charging cable. Another cause that we can guess is the power source. Have you tried to use other power source? Maybe it's your power adapter? or power surge protector. Try to plug your iPhone into other power out wall.
DFU Mode
Now we are going to put the iPhone 7 in DFU mode. There are two options to choose in the DFU mode. First option we are going to try is the update option. Good thing about the update option is that the problem could be resolved without loosing data. But if the update option fails, we have to restore the device. Restore means erase everything. So if you have important data on your iPhone, please be careful before starting. In order to boot into DFU mode in iPhone 7, Connect your iPhone 7 to the laptop or PC through the cable. Now go back to iPhone 7 and Press and Hold Volume Down + Power keys at the same time until you see this screen below.
(For iPhone 6 user: Press and Hole Home + Power buttons together for about 10 – 15 seconds)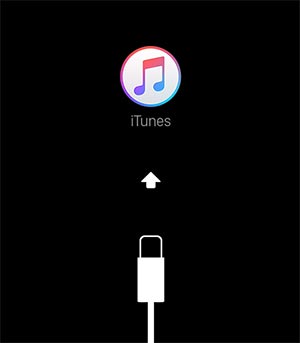 If the DFU mode screen appears on the iPhone 7, go back to your computer and launch iTune. You will get a window that is asking you to restore to update. As we mentioned, we are going to choose update option first, which is safe way to try. Click UPDATE. If you failed to update your iPhone 7, try to Restore. Restoring will delete all of your data, so please be careful before starting to restore iPhone 7.

Genius Bar
Still problems haven't resolved yet? It might be more serious issues than we are expecting. In this case, we recommend you to set the appointment with Genius bar in the Apple Store near by your place.