Sometime we need an Internet connection outside where we have no Wi-Fi signals. Usually some places like McDonald, Tim Holtons, and Starbucks provide a free Wi-Fi Internet Connection, but how can we use Wi-Fi connection if there is no places provide free Wi-Fi support. Today we are going to show you how to make an Internet connection through your iPhone. Every iPhone has a Personal Hotspot feature and it helps to make an Internet Connection through your iPhone. Before you make an internet connection, Please make sure your iPhone has enough data plan because it uses cellular data.
Step 01. Please note that the Personal Hotspot uses cellular data so check your iPhone has enough data plan to use.
Step 02. Tap on Settings.
Step 03. Navigate to Personal Hotspot.

Step 04. First tap on Personal Hotspot to turn on and then tap on Wi-Fi Password to set up your password for the Wi-Fi.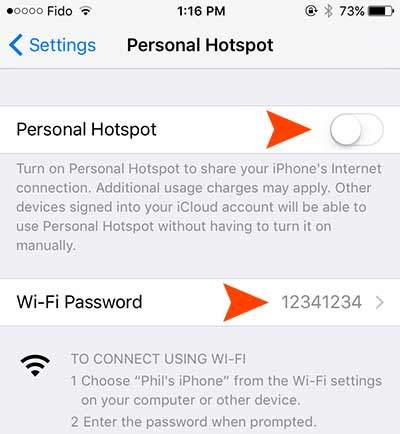 Step 05. Please go back to your computer and check the Wi-Fi list. You will see a Wi-Fi signal named as your iPhone. Now you can use Internet using your iPhone.