Here is how to transfer contacts, text messages, calendar, pictures, documents, music, and all files from Android to Android, iPhone to Android, Android to iPhone, and iPhone to iPhone | It also supports Blackberry for file transfer!
Hello everyone! We are writing a blog again today! It's been a while since we updated our blog.. Today's blog post is about transferring files from your old smartphone to a new one. As you already know, once a year or once in few years, people buy new mobile phones, and we know that a lot of people (including us) want to know how to transfer files from Android to Android, iPhone to Android, Android to iPhone, or iPhone to iPhone. Don't worry! We can transfer almost all the files that you have on your old phone. Just to let you know, the method we are going to learn is not a free method. You need to purchase this application. It's less than $50 dollars to purchase, and we think it's reasonable price for transferring your important contacts and files. Most importantly, you can do it yourself! Let's get started!
Let's transfer everything with MobileTrans
Once again, this is not a free program. The main reason that we recommend this program is because, it is really easy to use, and very convenient.
Go to the official MobileTrans website to purchase the program: https://mobiletrans.wondershare.com/
They also offer free trial too. You can try it first, but if you want the full features, you need to purchase a license. Right now they have three different licenses: $29.95 for 1 Year/5 Phones, $39.95 for Lifetime/5 Phones, and $499 for Lifetime/Unlimited Phones. (June 2017)
After purchasing, download and install the program. You are now ready to transfer files!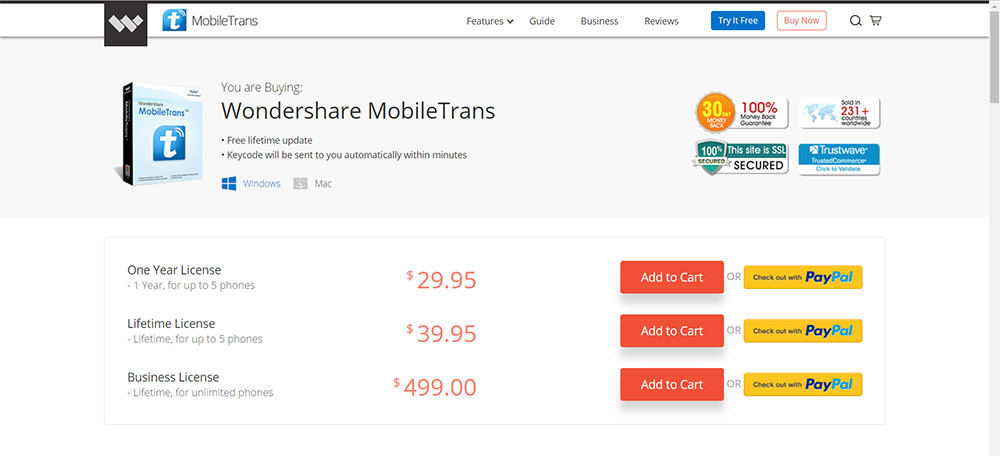 How to transfer files between two mobile phones
1. We apologize that we are using older version of MobilesTrans. In newer version, somethings may look different, but it's very straightforward. When you run the program, you will see something like below. To transfer music, contacts, photos, text messages, and apps between two different phones, click Phone to Phone Transfer. Transferring applications only available between Android to Android or iPhone to iPhone. If you have two phones with two different operating systems, you cannot transfer apps.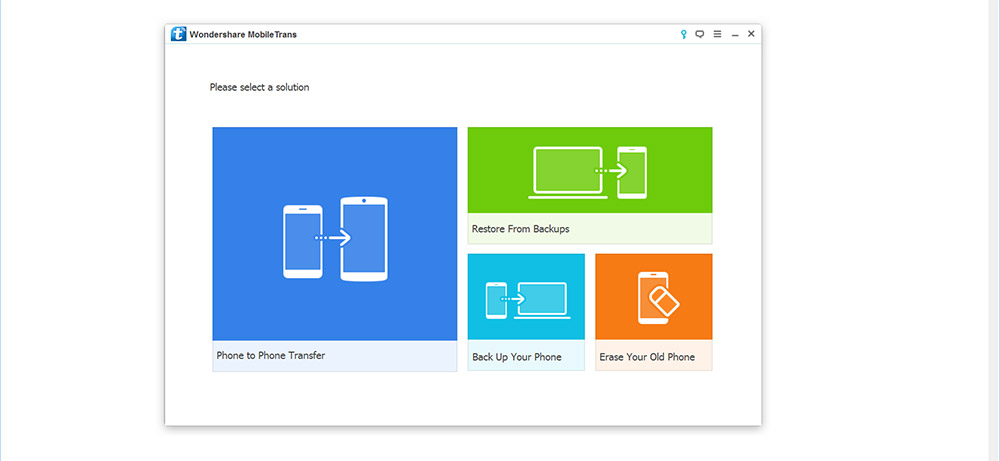 2. Then, connect the two smartphones to your computer, and wait until the MobileTrans recognize all the phones. It will also ask to have permission to access the phones, so on your Android or iPhone, allow access. An instruction guide will be displayed on how to allow access. After that, set the source and the destination phone, then, you can choose what to transfer. Choose everything you want to transfer. Click "Start Transfer" to begin transferring. All you need to do is waiting!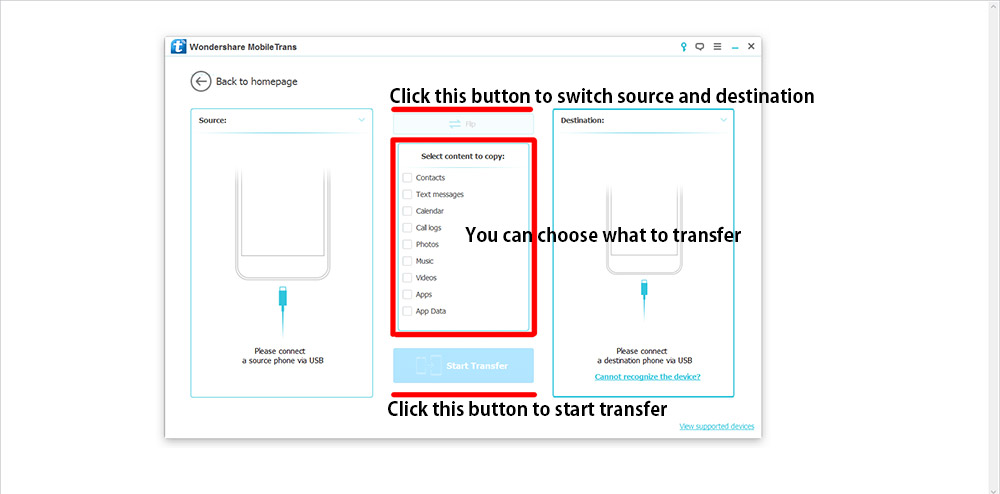 Just to let you know that you can also create a backup of your smartphone, and restore with this MobileTrans program. It also has a reset feature which helps you to erase everything from your phone. The main reason that we are recommending this MobileTrans is because we found it's really easy to use, and we also use this application to transfer files from phone to phone. We hope it was helpful for you. Thank you!